Sell Your Home With Feng Shui Staging
So you want to sell your house. You have read up on why staging is important in the sale of a house. You've also heard about this thing called Feng Shui staging and it has your head spinning a bit. The premise is that you want to create energy flow throughout your home, and make your house more aesthetically pleasing.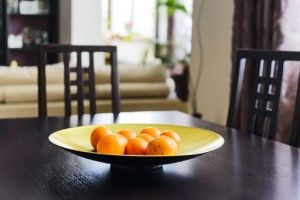 Let's break down this type of staging to simplify what it is, and how you can use it to bring appeal to potential home buyers.
What Is Feng Shui Staging?
Feng Shui literally means "wind-water" and it has been used in China for hundreds of years. It is a set of rules that define how spatial arrangement and orientation can enhance the flow of energy in a home. So naturally that would apply to staging a home to give it the right "feel."
Feng Shui Staging Outdoors
Buyers naturally look to the right first when examining a home, with this in mind, placing the For Sale to the right of the door invites buyers to look closer. For maximum effect, have all the flowerbeds, bushes trimmed and an inviting path to the front door.
For a more welcoming entryway, make sure the door is freshly painted a contrasting color of the house. Add healthy flowers with rounded leaves in beautiful planters on both sides of the door with a new door mat to "greet" potential buyers. Many Feng Shui sites recommend placing a wind chime at the right corner of the home and adding a water feature to the front of the home by the entry.
Feng Shui Staging Indoors
The first 6-8 seconds of walking into a house usually determines whether a buyer will want it. To get the most out of those precious seconds, you want to show them the best room first. Delineate this room with colorful rugs and relaxing patterns. Have the couches and seating arranged to face the door, welcoming visitors into the home.
By removing all the personal effects in each room, you are allowing potential buyers to envision their own personal belongings in that room. Decluttering the entire house and removing all personal items and photos removes the tension of too many items and allows the energy to flow more freely, showing buyers that there is room for their possessions.
Get rid of dark, gloomy or sad wall art. Add cheery, brightly colored and positive wall art to lighten the mood and make the rooms feel more welcoming. Leave the wall paint color neutral tones to offset the colors. When accessorizing, rounded shapes are best as sharp shapes and corners are said to cut the energy.
A clean house is key, pay special attention to the windows and corners of the house. Make sure that everything is sparkling clean and fresh.
Staging the dining area with plates, silverware, napkins and a beautiful centerpiece provides a welcoming view for potential buyers. Yellow is an excellent choice of color in the kitchen as it aids digestion. Bowls of fruit, oranges, lemons, limes or apples is considered a sign of prosperity as well as being lovely decor.
With some of these Feng Shui staging tips, you will create a warm and welcoming environment to visitors and encourage potential home buyers to want it for themselves.
Selling Your Home?
Get your home's value - our custom reports include accurate and up to date information.
Get Home Value