6 Easy Tips To Organize Your Nursery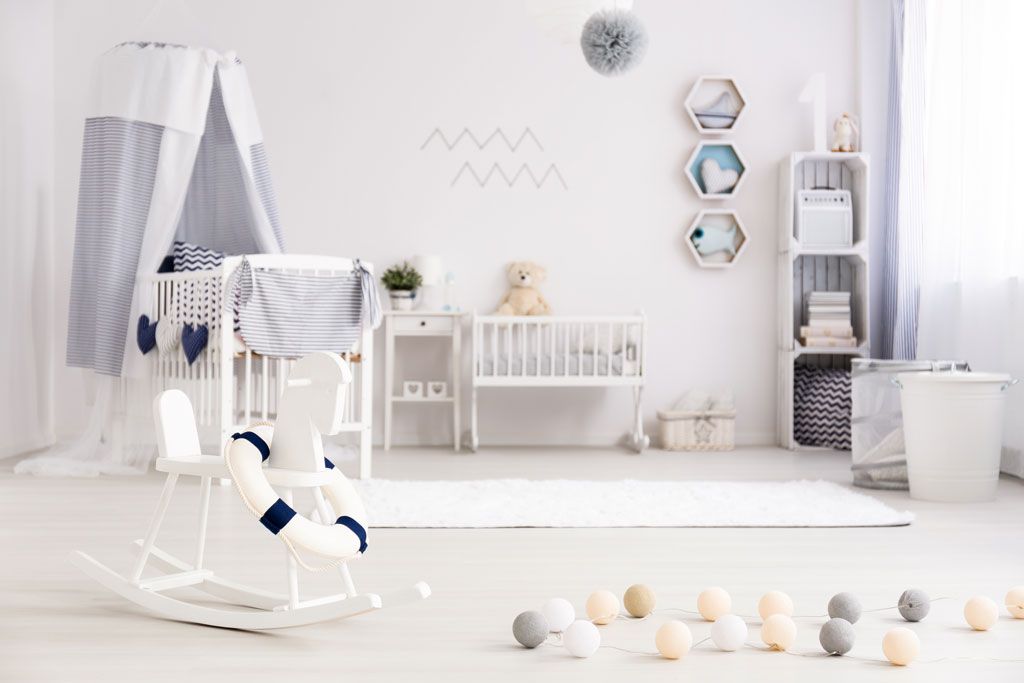 How exciting that you are expecting!
You're settled in your new home, the months have passed by and the time is almost here. One of the critical things you must do is to set up the nursery. Many mothers struggle with the concept because it's not just a place where your little one can sleep, the room should be multi-functional. Below are 6 areas to consider, ensuring that this space is the best it can be!
Let's discuss safety first. The crib is the single most important item in your nursery. For the safety of your precious child, make sure you read over all the safety standards and crib recall notices found on www.cspc.gov. Below is a summary of a few of those standards:
Keep it bare. No pillows or blankets or bumpers in the crib or play yard, as these are suffocation hazards.
Cribs older than 10 years usually do not meet the safety standards, so check the dates.
There's a little gap between the mattress and the crib bars. If it's larger than 2 fingers, it's dangerous for your newborn.
Crib slats need to be no wider than a soda can in width. If a soda can slides through, they are too wide.
The location of your crib or play yard is critical; keep them away from cords, mini-blinds or electrical outlets.
Don't forget to attach the furniture to the walls with straps to prevent tip-overs from your little climbers.
The Sleeps:
The crib is where your baby will be spending the most time. It's also the focal point of the room and elicits the most "oohs" and "aahs" for all the visitors. So naturally this is one of the first things you purchase for the room as it sets the tone for the entire nursery. Keep this pivotal piece in mind when designing your nursery. A convertible crib is a nice feature as it grows with your child, easily changing into a toddler bed, and sometimes a regular bed, depending on the model.
The Changes:
Most mothers choose to have a changing station in the nursery. Whether you purchase a changing table, or place a changing pad on a piece of furniture, having all the necessities within easy grasp will make a difference when it comes to that explosive episode. These areas also double as a safe place to change their clothes or apply lotion to their sensitive skin.
The Seats:
As all experienced parents will tell you, invest in a good rocker or glider. You will be spending far too many nights in the beginning, trying to sleep while holding a screaming baby in your arms. Or feeding the baby, or just rocking them to sleep. This is a must-have piece of furniture in your nursery. You will be spending far more time in this chair than you expect, so make sure it's not only stylish but comfortable.
The Stuff:
You will be amazed at how many little things you need for your newborn. And it seems to procreate while you sleep, or at least attempt to sleep. So, good functional storage is necessary! The closet is a great way to be able to close a door and hide much of it, so think about how to best utilize that small space. Closet organizers, drawers that are for little odds and ends now will also serve as toy storage as your babe grows.
The Smells:
Lavender and chamomile are some of the most common smells in a nursery. Aromatherapy through essential oils serve as a way to calm your infant, promote sleep, fight off sicknesses, and ease coughs, not to mention keep your nursery smelling fresh. Himalayan salt lamps boast similar benefits too. Be sure to do your research and get good quality essential oils and follow the instructions on their use closely. Your local organic store can provide a wealth of information.
The Environment:
Right as you get your sleep-deprived baby to sleep, a neighbor drives down the street blaring the radio and wakes them up, or a dog barks, or a horn blasts. This occurs far too often, especially when you need them to sleep the most. One of the ways you can reduce this is to get sound dampening curtain panels. They also block out the light, which allows for better naptimes. Depending on your house location, consider a sound machine to help further with this.
By going through these areas one by one, this will help you to organize your nursery in a way that is beneficial for your newborn, and for you. Happy parenting!
Selling Your Home?
Get your home's value - our custom reports include accurate and up to date information.
Get Home Value